Special Education Assistant
RTI Reading Comprehension Specialist
1st Grade Student Teacher
6th Grade Science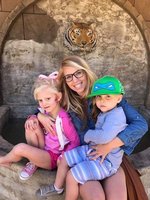 Mrs. Hazlett graduated in 2011 from Welch College with a Bachelor's degree in International Business. December of 2018, she graduated from Western Governors University with a Bachelor's degree in Interdisciplinary Studies. She is currently working on her Masters in curriculum and instruction. She has worked for NGS for 5 years and feels at home there. She has two children who attend NGS. She has also taught dance and gymnastics at Newport Dance and Cheer Academy for 8 years. Teaching of all kinds is her passion and she wants to share her love of learning and life with her students.
Welcome to my website! I am so excited to be teaching your children this year. At the top of my page you will find the word "links" in blue. Please click on my link to Mrs. Hazlett's Happy Scientists. This is the website I will use to post homework and the calendar. I will constantly keep my site updated with important information! Make sure you are logged in with your student's newportgrammar.org google account to be able to see, upload, and print any documents I have posted on my site!
NGS IS PROVIDING THE MAJORITY OF
STUDENT SCHOOL SUPPLIES FOR THE
CURRENT YEAR. HOWEVER, THE
FOLLOWING ITEMS ARE STILL NEEDED:
Individual set of headphones to use on Chromebooks
(NO WIRELESS HEADPHONES)
(optional, but recommended)
THE FOLLOWING ITEMS WILL GO TO CLASSROOM COMMUNITY USE AND DISTRIBUTED TO STUDENTS, AS NEEDED, DURING CLASSROOM ACTIVITIES:
1 pack of pencil tip erasers

1 bottle of Germ-X

3 boxes of Kleenex
1 pack of Lysol wipes
Box of Ziploc bags:
Boys (Quart size)

Girls (Gallon size)
**** Wish List Items ****
Astrobright neon-colored copy paper

white cardstock

band aids
Lysol spray

bright-colored sticky notes

pack of scissors for students
Students will be allowed to store

school materials, books, and backpacks in their lockers.

Students will

not

be allowed to decorate or place miscellaneous items in lockers that do not pertain to school (mirrors, carpet, magnets, etc.).

Lockers are used primarily for academic storage.
Students are encouraged to carry around a pencil pouch to keep up with their pencils and erasers.
Welcome to Mrs. Hazlett's 2020-2021 Homeroom! I am so excited for our year together!
- Leah Adams
- Abigail Clevenger
- Gabriel Crusenberry
- Natalie Ellison
- Allison Hartsell
- Romon Martinez-Hazelwood
- Iyana Massengill
- Ryan Meigs
- Joseph Nanny

- Nathan Owens
- Ella Proffitt
- Jonah Saul
- Jeslyn Suwardika
- Elijah White
- Aubrey Williams
- Isiah Zajacek
Mrs. Hazlett's Google Site
Please use the following link to find all weekly information and homework for my science class: https://sites.google.com/a/newportgrammar.org/ms-munsey-s-mad-scientists/home
11/30-12/4: This week in science we are finishing up our weather maps and air pressure unit. Students will choose a presentation style and begin their weather maps choice project. We will have a weather maps test on Friday!
Weekly Handouts, Information, and Homework Sheets