Special Education Assistant
RTI Reading Comprehension Specialist
1st Grade Student Teacher
6th Grade Science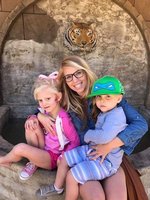 Mrs. Hazlett graduated in 2011 from Welch College with a Bachelor's degree in International Business. December of 2018, she graduated from Western Governors University with a Bachelor's degree in Interdisciplinary Studies. She is currently working on her Masters in curriculum and instruction. She has worked for NGS for 6 years and feels at home there. She has two children who attend NGS. She just added a new baby girl, Violet Grace, to her family!Teaching of all kinds is her passion and she wants to share her love of learning and life with her students.
Welcome to my website! I am so excited to be teaching your children this year. At the top of my page you will find the word "links" in blue. Please click on my link to Mrs. Hazlett's Happy Scientists. This is the website I will use to post homework and the calendar. I will constantly keep my site updated with important information! Make sure you are logged in with your student's newportgrammar.org google account to be able to see, upload, and print any documents I have posted on my site!
NGS 6th Grade Supply List (2021-2022)
The following list covers required supplies for all subjects for 6th grade. Please, keep in mind that supplies, including backpacks, will need to fit inside student lockers.
Science - 2 composition notebooks
Pack of 80 letter size envelopes
Personal Items
pack of loose-leaf, wide-ruled notebook paper

NO spiral notebooks

locker shelf (optional)

pencil pouch

individual tape dispenser

scissors for personal use

individual set of headphones to use on Chromebooks (NO WIRELESS HEADPHONES)
Students are responsible for their own property. Headphones may also be purchased at the Dollar Tree.
Student Locker Rules
Students will be allowed to store school materials, books, and backpacks in their lockers.

Students will not be allowed to decorate or place miscellaneous items in lockers that do not pertain to school (mirrors, carpet, magnets, etc.).

Lockers are used primarily for academic storage.

Students are encouraged to carry around a pencil pouch to keep up with their pencils and erasers.
Water Bottle Rules
Students will bring their own water bottles for personal use.

Water fountains will not be available.

Students are ONLY allowed to drink water at school. (NO MIX-INS)

Students are responsible for bringing enough water to last the school day.
Welcome to Mrs. Hazlett's 2021-2022 Homeroom! I am so excited for our year together!
Jolee Davidson
Jaxon Driskill
Kaden Gentry
Olivia Hawkins
Charlie Jones
Pailyn Lane
Jocelyn Lopez
Sophie Mathis
Kayden Mooneyham
Braiden Norman
Kaylyn Proffitt
Reece Proffitt
Brantley Ramsey
Braxton Robinson
Aiden Weeks
Mrs. Hazlett's Google Site
Please use the following link to find all weekly information and homework for my science class: https://sites.google.com/a/newportgrammar.org/ms-munsey-s-mad-scientists/home
Welcome back for the 2021-2022 school year!
Weekly Handouts, Information, and Homework Sheets