Newport Grammar School D.A.R.E. Program
"Keepin' it REAL"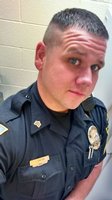 Sgt. Vinson

Newport Grammar School
Phone: 423-623-3811 x800

Newport Police Dept.
Phone: 423-623-5556 x542
Thank You for checking out the Newport Grammar School D.A.R.E. page. To tell you a little about myself, I am a 16 year veteran of the Newport Police Dept. I have been the SRO at NGS for the last 11 school years and a Sergeant with the department for the last 8 years. As far as D.A.R.E. goes, for the 2019-2020 school year, D.A.R.E. will be taught for 5th grade. This is a new curriculum that will be taught to your child. It's called "Keepin' it REAL", It will deal with more of today's issues your preteens will face on a daily basis. Things taught will range from Drugs, Alcohol, Tobacco use, Prescription Drugs, Risks & Consequences, Dealing with Stressful Situations, Peer Pressure and the big one that parents and students worry about... BULLYING!!!
My door is always open to any student or parent that may have an issue or need to talk about something. As a parent you may wish to speak with me one on one, you may set up an appointment by either calling my office at the school at
(423) 623-3811 ext. 800
or Call my number at the police Dept.
(423) 623-5556 ext. 542
and leave me a message. I will respond as soon as I can. I am looking forward to working with your students this school year and try to teach and give them examples about today's issues that will hopefully help your students for years to come.
In todays electronic age, most parents and teens are kept informed by social media sites such as Facebook, Twitter, etc. So to keep up with todays society NGS has a facebook group that keeps parents and students informed about upcoming events, school cancellations, delays and other important information. Also this site is a closed group and can only be accessed if you are a member of the group. This group is kept closed so only those associated with the school can see the information. If you wish to become a member of all the other parents and students on the site, please click the link below and request to be added.
www.facebook.com/groups/NGS.taking.a.stand
Once your request has been sent, myself or other administrators of the group will review and make sure that you belong there and need access. Once approved you may view all the threads and events and add comments. But everything is being monitored and must require approval before the post has been accepted. Also the group has been a great assest to report bullying. I've had numerous parents and students this year report problems and they have been dealt with accordingly. So look us up and keep informed with the already numerous people that are members.